Stimulating the muscle recovery after match-play and training is a success criterion for a football player.
---
The physical demands of soccer match-play involve changes in speed and direction, repeated sprints and explosive jumps that predominantly require eccentric type muscle contractions. Such movements often result in muscle damages.
An improved performance is a product of hard work and dedication. A jigsaw of daily task sums up in a performance on match-day. A world class football team constantly searches for better training methods and more effective recovery. Smartfish cooperates with some of the best teams in the world. This cooperation involves testing of new products, clinical studies, and implementation of our products in the squad meal plans.
Smartfish also works with recognized universities for clinical studies on football players. We call this the Smartfish Football R&D.
---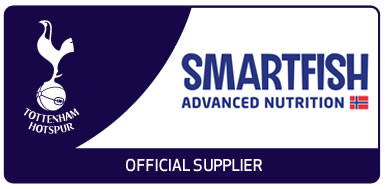 ---
Smartfish is the Official Sports Nutrition Drink Supplier of Tottenham Hotspur, and we are delighted to supply the first team and the academy players with Recharge products.
We are excited to work closely with the medical team at Spurs who lead the way in their approach to sports science. Working together with leaders in sports science provides valuable insights for creating innovative products.
Doctor Shabaaz Mughal, Former Head of Medical and Sports Science for Tottenham Hotspur, said: "We are delighted to announce this new agreement with Smartfish. The Club prides itself on our ability to maximise player performance in both training and matches. Recovery is just as important as any training session on the pitch and Smartfish will provide us with the best products to do that."
---
---
Benfica has implemented Smartfish as part of the first team's nutritional regime. Benfica has more than twenty employees at their BenficaLAB in Seixal. BenficaLAB works with their first team and the impressive Benfica academy. In our work with BenficaLAB, we discuss new products and test new Smartfish formulations. Benfica includes Smartfish Recharge Omega-3 as part of the daily diet for the youth academy players.